Home Page


See Photo Page


Class Times
"Whatever we do in this world has to do with survival."
"Pekiti-Tirsia is a combat art. The culture is combat culture. PT is directed to follow the old tradition to carry on as a legacy."
"The traditional knowledge in terms of martial arts has been there long, long…many years ago. The people had practiced and practiced and used this in terms of how many empires and generations of invasions and fighting. This has been tested and proven over and over again."
Pekiti-Tirsia Kali is a close-quarter, in-fighting combat system against multiple opponents based on the use of the Blade. Pekiti-Tirsia is a system of complete strategies and tactics utilizing all close quarters weaponry(sword, knife, baton, empty hand), in all ranges, that provide protection from strikes and attacks, destruction of opponents weapons, and domination of any combat or self defense situation.
The Pekiti-Tirsia system of Kali originates from the province of Negros Occidental in the Philippines and was formulated by the Tortal family of Negros and Panay islands. The family patriarch, Conrado B. Tortal, passed this system and its attributes onto his only grandson, and sole heir, GRAND TUHON Leo Tortal Gaje, Jr. Today, Pekiti-Tirsia is trained and executed in combat and survival by military operators, law enforcement officers, and citizens across the free world.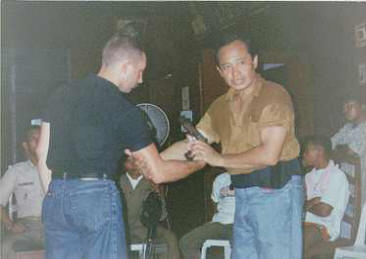 Gun retention and disarming techniques come from the knife techniques
Maginoo-Mandala Timothy D. Waid is a certified Master Instructor of the Pekiti-Tirsia Kali System. Guro Waid is a private student of Grand Tuhon Gaje and has extensive experience in the Republic of the Philippines where he currently serves as a Tactical Training Instructor to the Armed Forces of the Philippines, Philippine National Police, government agencies and private business.
Grand Tuhon Leo Gaje Jr. Explains what Pekiti Tirsia Kali is all about
(video comes from DVD Combatant: Extreme Self Defense more info)
More video of Grand Tuhon Leo Gaje, Jr. is available via monthly membership at http://www.videotollway.com/tuhongajevideos.htm

---