Video of Tuhon Gaje Explaining Pekiti Tirsia
Grand Tuhon Gaje Video Membership Area new
Interview with Tuhon Gaje 2004
Knife related assaults in the news

Knife fight scenes in Movies

Sword fight scenes in the movies
PEKITI-TIRSIA KALI

Dallas / Plano / Allen

FILIPINO BLADE FIGHTING SYSTEM



-
EDGED WEAPONS
-IMPACT WEAPONS
-EMPTY HANDS COMBAT
-GUN RETENTION and Close Quarters Use
-----------------------------

Pekiti-Tirsia Kali is a close-quarter, in-fighting combat system against multiple opponents based on the use of the Blade.

Transferability of techniques-- a characteristic of a system.
System - It all works together to create something greater than the sum of its parts.
---
"(Leo Gaje's) system is built around the knife, and has more street-realism than anything else."
February 1981, Inside Kung Fu
"When it comes to strategic knife defenses, Pekiti Tirsia Kali is one of the most progressive, useful, and sophisticated systems I have ever encountered".
Dan Inosanto
"At close range it is not a shooting contest: it's a fight. Specifically it is a gunfight at knife-fighting range. This means it is not so much a shooting thing as a martial arts thing, and the martial arts is where you have to find the answer.
-- Massad Ayoob
The Gun Digest Book of Combat Handgunnery
---

Grand Tuhon Gaje and
Maginoo-Mandala Tim Waid

"There is no such thing as self defense; there is only offense and counter-offense"
--Tuhon Gaje

"Is Your martial art made to build character, improve health, instill discipline, or engage in a fair fight? That is not a martial art, it is a civilized sport and will not help you survive."

-- Jason Baird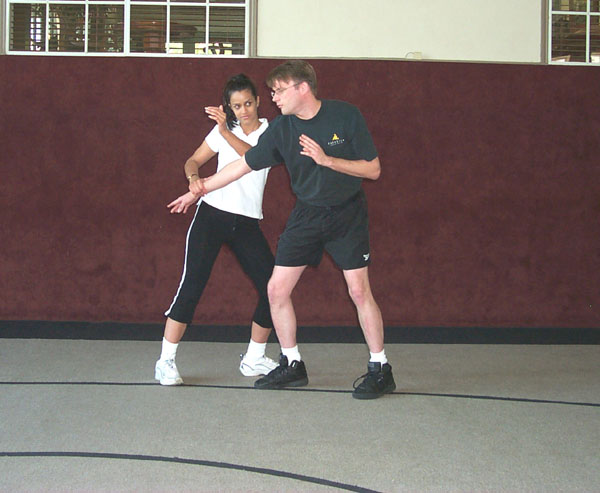 Women can defeat larger,
stronger opponents with the
proper tools, training and mindset